A yet-to-be-identified Nigerian man has attempted to set a Guinness World Record by peeling 50 coconuts with only his teeth.
A video making rounds online shows the young man painstakingly peeling the husk from 50 coconuts with his teeth. However, it is not clear if he is breaking a record or setting a new record.
This follows the hype around Hilda Bassey, a Nigerian chef who recently cooked for over 100 hours in an attempt to break the world record for the longest cooking time by an individual.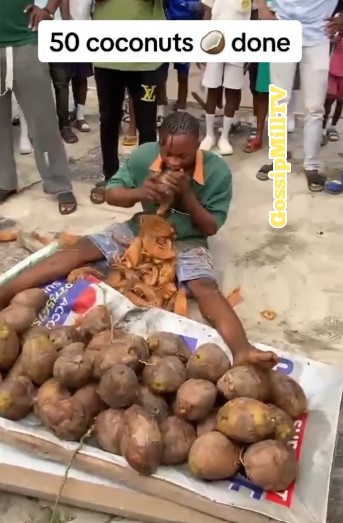 The unidentified man, who seemingly wants to also make a name for himself, went the extra mile to peel 50 coconuts with his teeth.
In the trending clip, he is seen sitting on the floor while peeling the coconut husk, as people gathered to witness the record-breaking attempt and cheer him on.
Watch below,